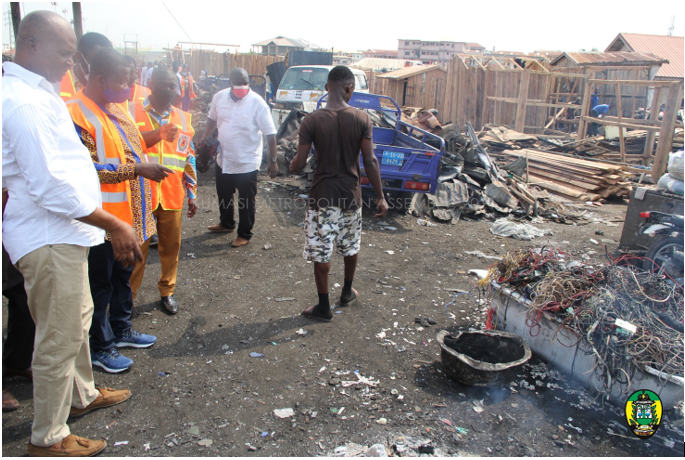 The Director-General of National Disaster Management Organization (NADMO) Mr. Eric Nana Prempeh Agyemang and a team from the Kumasi Metropolitan Assembly has toured the three areas in Kumasi that were razed by fire recently.
According to the Director-General, the purpose of the visit was to obtain first-hand information, assess the extent of damage, sympathize with the affected, and the way forward.
He said the visit was also to pledge government's support to the victims of the fire outbreak.
Dagomba Line
The first port of call was Dagomba Line, a popular slum, where about 500 wooden structures providing shelter for more than 2,000 people who are mostly porters from the North andscrap dealers were gutted by fire on Monday 11th January, 2021.
Aboabo Station
The team moved to the Aboabo Station where fire gutted a two-storey building which led to about 30shops stuffed with valuable items being damaged on Sunday 10thJanuary, 2021.
SuameMagazine
The final location was the Suame Magazine in the Suame Municipal Assembly where fire gutted a two-Storey mechanical shop on Tuesday 12th January, 2021 and in the process damaged a lot of mechanical items which were being stored there.
The Director-General, Nana Agyemang Prempeh after the tour, attributed the rampant fire outbreaks in the City to the use of sub-standard electrical wires, illegal electricity connections and most recurrently ignorance on the part of some people.
He said the government would look at possible means to relocate the residents of the slums in futur eand as well look at the re-development of the Suame Magazine since fire outbreaks had become an annual ritual.
"History cannot be written without Suame Magazine so the government will consult all stakeholders in the demarcation and re-development of the place to curtail future occurrences of these fire outbreaks." He added.
Nana Agyemang Prempeh also advised residents to use certified electrical wires in wiring their shops and also make sure to put out any little fire before leaving their shops.
STORY:EMMANUEL ANTWI JNR
JOURNALSIT, KMA