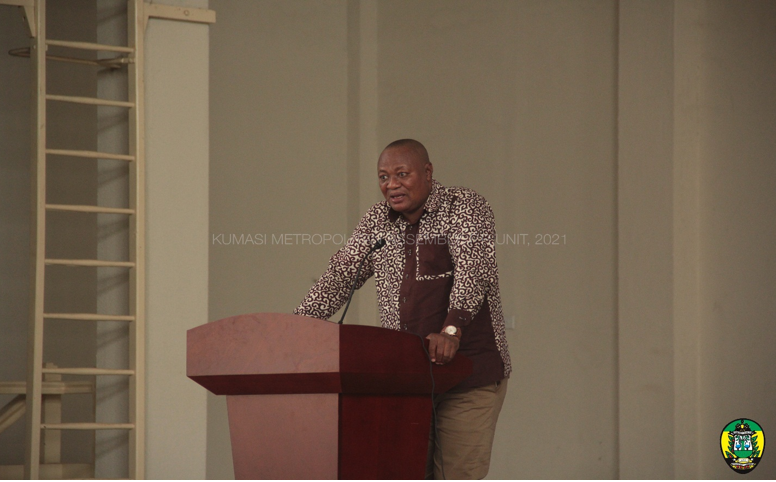 The Kumasi Metropolitan Assembly (KMA) has organized a one-day orientation and training workshop for National Service Personnel who had been posted to KMA at the Prempeh Assembly Hall in Kumasi on Wednesday 3rd November, 2021.
The purpose of the workshop was to educate Assembly members on the overview of the working environment and how the Assembly System works as well as the responsibilities ahead of them as they start their journey in the career environment.
Delivering the key note address, the Metro Chief Executive, Hon. Samuel Pyne, entreated the 2021/2022 national service personnel to be punctual at work and serve diligently to impact positively towards the progress of KMA.
Headvised them to be committed and dedicated to work and respect the variousofficers they will be working under them throughout the service period in order to give a good impression about them in their stay with the Assembly.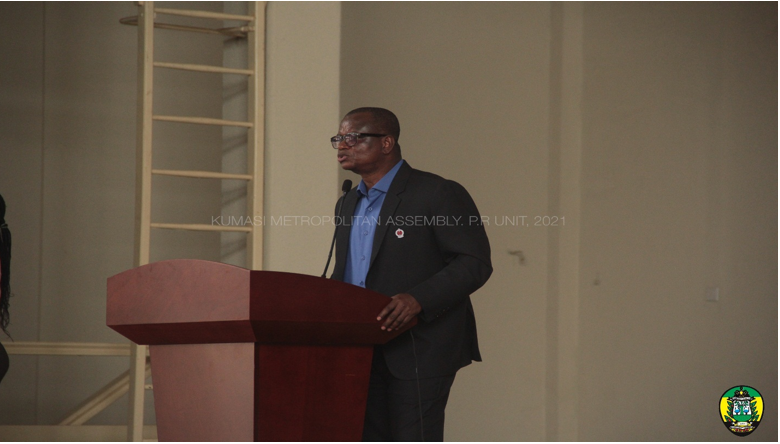 Mr. Pyne admonished them not to condone and connive with others to steal from the coffers of their various offices and the Assembly at large to help build a better nation devoid of all social vices. This he said, will help curb the act of corruption that has bedeviled the country for decades.
The Metro Coordinating Director of KMA, Mr. Kwadwo Akuamoah Boateng, in his opening remarks entreated the personnel to take keen interest in the orientation course and absorb the information being giving to them.
He said, that will make them good assimilated members of the Kumasi Metropolitan Assembly and would go a long way to help them in their future endeavours with much insight.
Mr.Akuamoah advised the to eschew the act of politics in their line work and deliver with transparency, equity, client focus, accountable among others byway of their schedule and rather work hard to bring fame and honour to themselves, the individual offices, KMA and mother Ghana at large.
The Ashanti Regional Director of NSS, Mr. Owusu-Mensah Alex, advised them not to the media whenever they have issues but rather report to the secretariat for amicable solution and be punctual to work as well.
In his closing remarks, Hon. Stephen Ofori, Presiding Member (P.M) of KMA charged the personnel not to be limited by the challenges but work hard to excel and think outside the box of establishing themselves after the service period, adding that, there is dignity in labour for everyone who strives on.
"Life is very diverse and for that matter their certificates cannot define who they will become in the future," he said. He urged all to be citizens and not just to add up to the numbers but be unique in their own small ways.