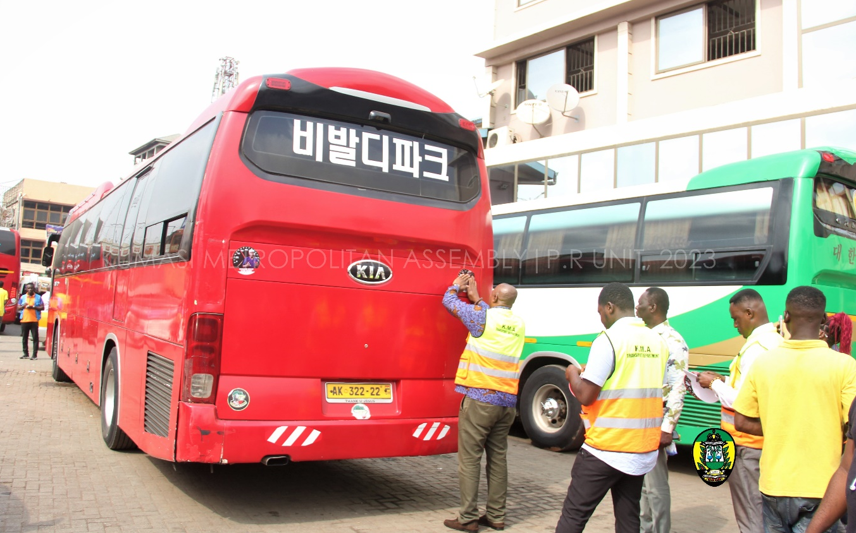 The Kumasi Metropolitan Assembly (KMA) and its development partners; Bloomberg Initiative for Global Road Safety (BIGRS), National Road Safety Authority and Vital Strategies embarked on a 2-day Speed Awareness Campaign in the Kumasi Metropolis from earlier this year.
The Speed Awareness campaign boarders on Road safety and crashes since it has increasingly become the number one public health concern due to its high fatality rate.
Since the ongoing campaign is targeted on intra-city movement and long journey, the KMA team on Tuesday visited lorry terminals within the Central Business District(CBD) of the metropolis. From Melcom – Ahodwo Station, Boss FM – Tech, Kotei, Prudential - Atasemanso, PZ- Danyame, RCC taxi rank and PZ Cargo station.
Other Lorry stations included Unibank – Bantama, Adum Prisons-Daban, and Central Market to Ejisu stretch stations.
At the various stations, the drivers were schooled on the Speed Awareness Campaign before they were given the stickers to paste on their cars. While some drivers showed resistance, others embraced the campaign.
On Wednesday January 11, 2023, the Metropolitan Chief Executive, Hon. Sam Pyne joined the KMA team and led the campaign from the forecourt of the Assembly through STC yard, Cocobod and finally Asafo Market Long Journey terminals.
At Asafo VIP Lorry terminal, their Welfare Chairman Agya Nimo welcomed the KMA team and also facilitated the sensitization of the campaign and the pasting of the campaign posters on their vehicles.

Hon. Sam Pyne in a brief speech at the Asafo VIP said he personally led the campaign to show how serious the KMA and himself as the Mayor of the City were determined to educate the populace to embrace the campaign to reduce road crashes at the local and national levels and also to prioritize road safety.
Hon. Pyne charged the drivers to see road safety as their civic duty where they owe the public an obligation of driving carefully and strictly adhering to road traffic regulations.
He added, that, the economic burden that road -crash-victims brings to the nation and their family are so huge hence the time to act is now.
STORYAND PICS: PR-UNIT, KMA