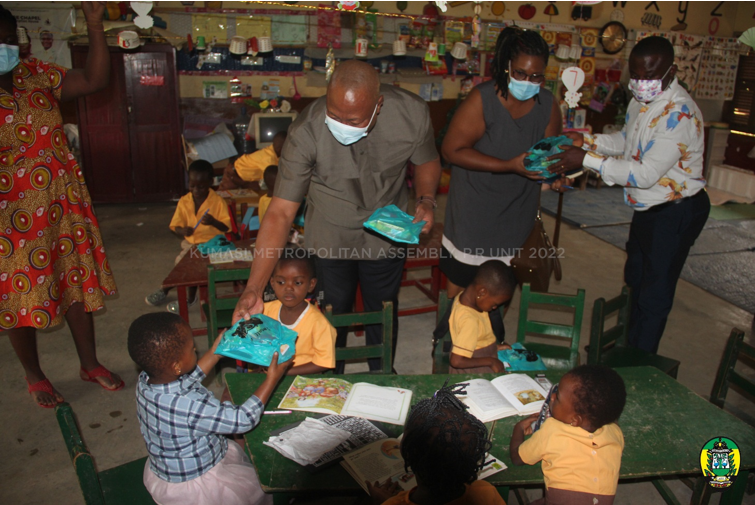 Pupils in some basic schools in the Kumasi Metropolis received exercise books, pencils, erasers, sharpeners, crayons, drinks and biscuits as part of the "My First Day At School" observation for the 2021/2022 academic year on Monday 24th January, 2022.
The Mayor of Kumasi, Hon. Samuel Pyne, led a team from the KMA and the Metropolitan Education Directorate to visit the pupils at Danyame M/A Primary, Patasi M/A Primary, Akosa Primary, Imam Malik Basic and other schools in the Metropolis.
Hon. Sam Pyne said the purpose of the visit was to motivate the pupils to know that they can become future leaders and also to make feel a sense of belonging at school.
He encouraged parents to enroll their children in school to take advantage of the Government's free education programme and also entreated teachers to go to the communities and sensitize parents on the need to enroll their children in school.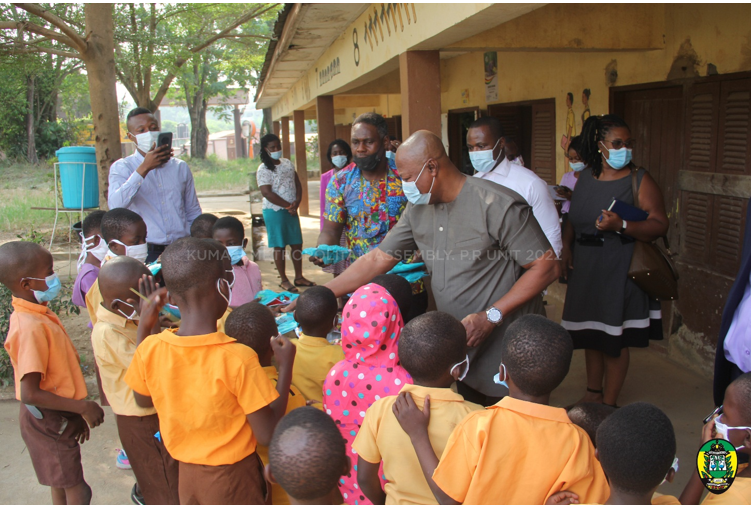 The Mayor said the KMA was undertaking an exercise to light up the City and was going to extend it to all basic schools to avert criminal activities in the schools at night.
He added that the Assembly was also going to distribute furniture to all basic schools within the Metropolis but said priority would be given to schools who had already applied for the support.
Hon. Sam Pyne hinted that the schools would be provided with institutional toilets and mechanized boreholes for those who did not have.
At Patasi M/A Primary, the Mayor ordered the Metro Works Engineer to demolish a private structure which was being developed on the school land.
Mr. David Oppong, the Metro Director of Education advised parents to enroll their children who were four years old in school especially those who were living in slums.
He appealed to the Government to come to the aid of some schools who had been cut off from the national grid.
STORY:EMMANUEL ANTWI JNR