The Mayor of Kumasi, Hon. Samuel Pyne has urged students sitting for the 2021 Basic Education Certificate Examination (BECE) to be focused and avoid examination malpractices, stating that examination was only an opportunity for them to demonstrate what they have learnt over the past years.
He entreated the candidates to eschew pressure and pass well to be able to take advantage of the Free Senior High School programme being rolled out by the NPP government.
Hon. Samuel Pyne said this when he led a team from KMA and the Metro Education Directorate to monitor some selected BECE Centers in the Kumasi Metropolis on Monday 15th November, 2021.
According to him, the purpose of the visit was also to motivate the candidates, observe challenges if there were any and find solutions to them and to observe the adherence to the COVID-19 safety protocols.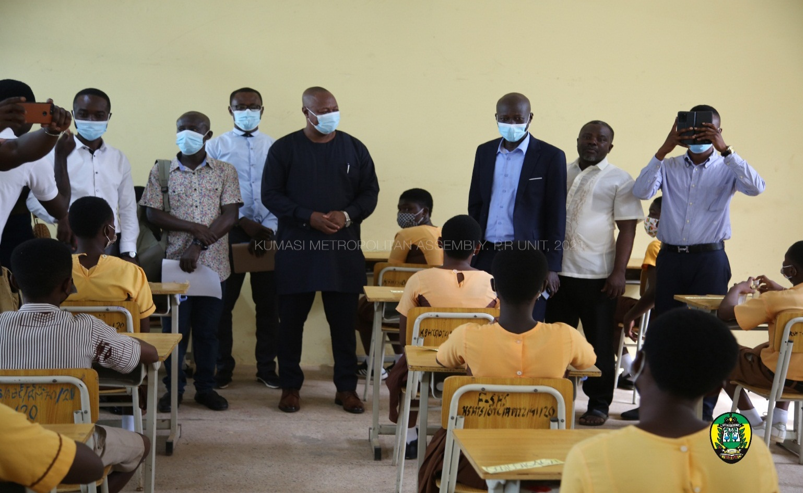 Mr. David Oppong, the Metro Director of Education also entreated the candidates to be courageous, since according to him, the exams was based on what they have already learnt in school.
He advised the students to avoid engaging in any unhealthy lifestyle during this crucial period to be able to finish writing all the examination papers.
A total of 10,679 candidates are sitting for this year's Basic Education Certificate Examination (BECE) in the Kumasi Metropolis comprising 5,083boys and 5,596 girls.
The Kumasi Mayor and his team visited Opoku Ware Senior High School, Kumasi Secondary Technical School and the Kumasi Anglican Senior High School.