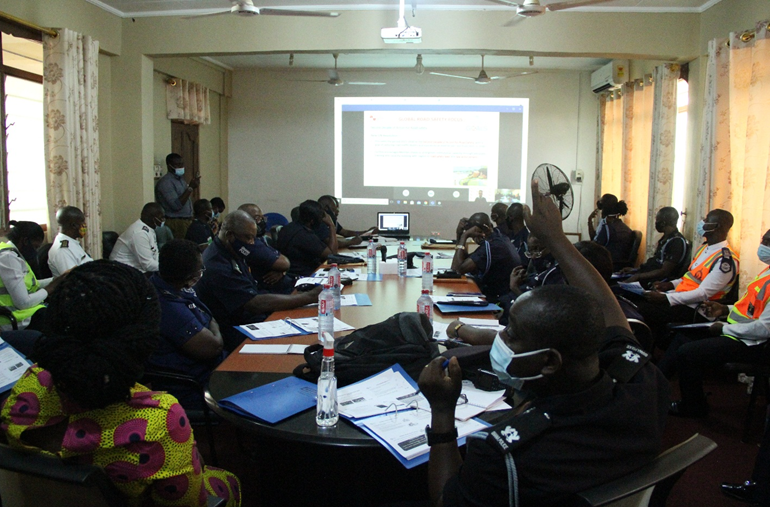 The Urban Transport Department of the KMA in partnership with Global Road Safety Partnership (GRSP) and the Motor Transport and Traffic Department (MTTD) has organized a two-day Kumasi Road Policing Leadership Workshop at the Conference Hall of the Urban Transport Department on Wednesday 23rd and Thursday 24th September, 2020.
The aim of the workshop was to support the Kumasi Motor Transport and Traffic Department (MTTD) of the Ghana Police Service leadership team to understand key road safety principles and international success in road policing enforcement.
The workshop was also to support the Kumasi MTTD leadership team in strategic planning for optimizing enforcement efforts including effective use of resources, principles of procedural fairness for improving community support towards road policing.
The participants were also trained on approaches to improving road safety, principles of road policing legitimacy and procedural fairness, scientific approaches to reducing road traffic death and injury and the importance of effective data management to support intelligence-led policing approach, among others.
Present at the workshop were the Regional Police MTTD Commander, Supt. Emmanuel Adu-Boahen, Divisional MTTD commanders in Greater Kumasi, Yvonne Naboo, Deputy Director at KMA; Randy Wilson, Head of Urban Transport, and other stake holders in the Road Safety Sector.
Story: Emmanuel Antwi, Jr.
Journalist
KMA