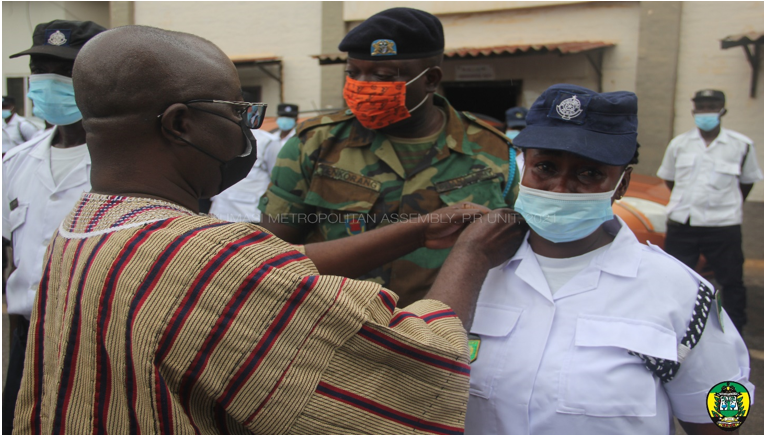 The management of the Kumasi Metropolitan Assembly (KMA) on Wednesday 22nd September,2021 honored two Metro Guards and three Environmental Health Officers for their outstanding efforts in confiscating 15 cartons of unwholesome chicken at Adankwame lorry station at Mmrom on 3rd September, 2021.
Constable Abena Adutwumwaa and Constable Anthony Gundad have been promoted from the rank of Constable to Senior Metro Guard. The Assembly has presented a refrigerator and a 32-inchtelevision, each sponsored by Melcom Group-Kumasi to the newly promoted Senior Metro Guards.
A cash reward was also presented to three Environmental Health Officers of the Environmental Health Unit of the KMA who pursued the matter in Court. They are Alice Serwaa Bonsu, Asst. Env'tal Health Analyst, Joyce Ami Awuyie, Asst. Chief env'tal Health officer and Sadia Atanga, an Env'tal Health Assistant.
Ashh FM, a local radio station, in recognition of the efforts of the Metro Guards, also donated a cash reward and a pair of boots to the Metro Guards.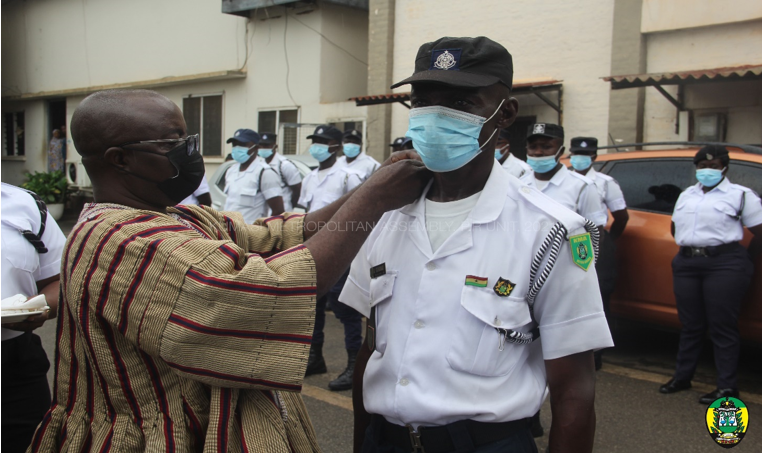 It would be recalled that on September 3, 2021 the vigilance of then Constable Abena Adutwumwaa, while on duty at the Adankwame lorry station in Kumasi, near the Kejetia lorry terminal, experienced a foul stench in the area.
She traced the stench to one Abiba, who was unloading cartons of frozen chicken from a rickshaw (Pragya).
A close examination of the chicken, which had changed colour to green, revealed that they were almost rotten and spirogyra infested.
Upon interrogation, Abiba indicated that she had purchased the consignment of 15cartons of the chicken from a cold store at Asafo, at a reduced price of GH¢60.00 instead of GH¢150.00 per carton, upon which Abiba was handed over to the Environmental Health Unit of the KMA.