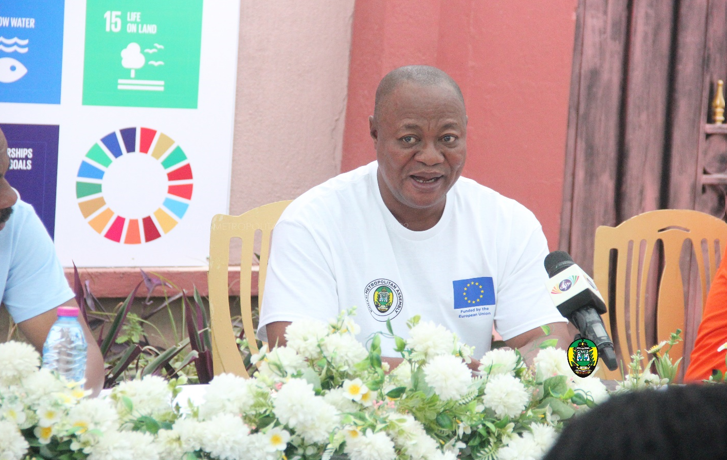 The Kumasi Metropolitan Assembly (KMA) on Wednesday 10th August, 2022inaugurated a Green Information Point at Asokwa as part of the Holistic Reinforcement for Sustainable Development (HORESD) project.
The HORESD project is a 2.5 million European Union funded project which has the objective to improve public policies and services in Kumasi as well as the lasting improvement of social, economic and environmental conditions. It also seeks to contribute to the reduction of poverty and health risks.
In his inaugural speech, the Mayor of Kumasi, Hon. Samuel Pyne said the HORESD project has set itself to achieve a number of deliverables which included creating jobs from waste, changing waste to fertilizer as well as generating electricity from waste. It also includes the promotion of community participation; reduce, reuse, recycle and recover.
According to him, to demonstrate that these deliverables were not mere wishful thinking but were within the reach of the people of Kumasi Metropolitan Assembly, a delegation of politicians, technical officers, academia and some media practitioners were invited to a study tour of the city of Valencia and its adjoining municipalities in Spain.
He said the 7-day tour boosted the confidence of the Kumasi team in working towards achieving the deliverables and by extension improving the social, economic and environmental conditions of Kumasi and its adjoining cities.
Hon. Sam Pyne noted that through the project, a training plan will be carried out for those targeted in a school called Sustainable Entrepreneurship School. He added that the school will empower the targeted population of Kumasi with the technical know-how and a reliable data and financial resources needed to manage their businesses in the circular economy.
He said the Green Information Point which has a 30-seater conference hall will be used for the Sustainable Entrepreneurship School and will also serve as a point of contact for enquiry and dissemination of information to the general public.
The Kumasi Mayor expressed his gratitude to the European Union Commission for creating a conducive environment for the project team to coordinate and lead the implementation of the project activities in Kumasi and assured the EU of a significant outputs from the implementation of the HORESD project towards achieving the Sustainable development Goals (SDGs).
Present at the event were the Metro Co-ordinating Director, Mr. Kwadwo Akuamaoh Boateng; Presiding Member of KMA, Hon. Patrick Frimpong; Heads of department at KMA, Reps from Zoomlion and other Waste Management Organizations, the Media among others.
STORY AND PICS:EMMANUEL ANTWI JNR, PR-UNIT, KMA