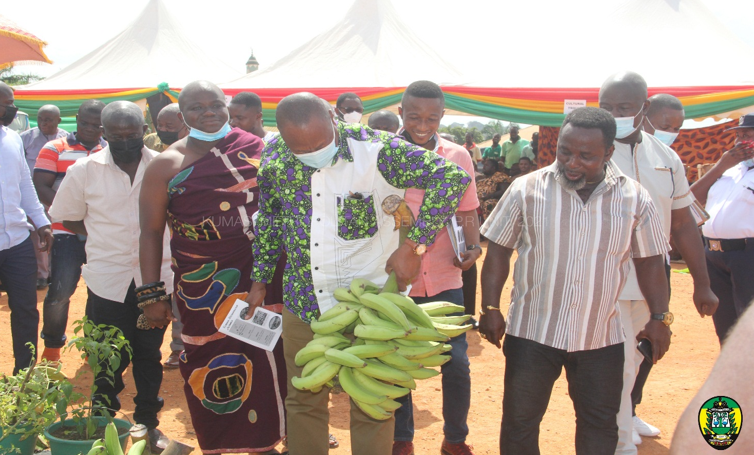 KMAOBSERVES 37TH FARMERS DAY
The Mayor of Kumasi, Hon. Samuel Pyne has lauded the hard work and important role played by Ghanaian farmers towards food security and the development of the country's economy.
He said agriculture had over the years been the mainstay of the Ghanaian economy providing employment for about 60 per cent of the National Labour Force and 49 per cent of Foreign Exchange earnings.
The 37th National Farmers' Day Celebration was held under the theme "Planting for Food and Jobs: Consolidating Food Systems in Ghana".
Hon. Sam Pyne disclosed that a total of 1,869 farmers in the Metropolis had benefited from various training programmes under the Planting for Food and Jobs and Fertilizer Subsidy programmes, with the view of expanding their scale of production.
He said, Kumasi as a commercial hub continues to lead in the sale and distribution of agro-inputs with over two hundred agro-input dealers operating in the metropolis, adding that a sizeable chunk of the subsidized inputs supplied by the government under the Planting for Food and Jobs programme was sold and distributed from the Kumasi Metro.
He made this commendation in his keynote address delivered at the Metropolitan Celebration of the 37th National Farmers' Day on Friday, 3rd December, 2021at the Sokoban M/A School Park at Sokoban in the Nhyiaeso Sub-Metro District Council of the Kumasi Metropolitan Assembly.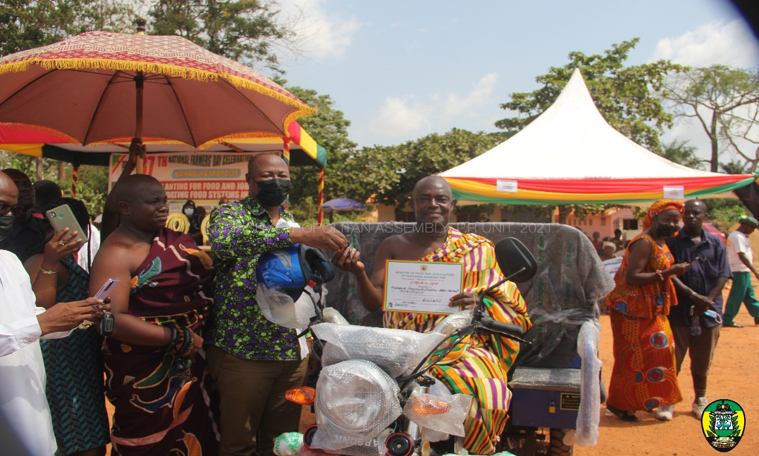 Hon. Sam Pyne urged all stakeholders, particularity there searchers, financial institutions and NGOs to contribute significantly towards the transformation of agriculture.
The Metropolitan Director of Agriculture, Mr. Paul AmoKorang encouraged the residents to engage in container farming in their homes as a substitute for backyard gardening, since most of the arable lands in the Metropolis had been taken by physical development and human activities.
59-year-old Andrews Amankwah, emerged the 2021 Kumasi Metro Best Farmer and took home two knapsack sprayers, five Wellington boots, a foam mattress, wax prints, boxes of Key Soap, and a Certificate, besides the ultimate prize of a Tricycle.
Other award winners included Opana farms (Best Poultry Farmer), Ivan boat Enterprise (Best Agro Input Dealers), and Plantain Sellers Association of Kumasi Central Market as Best Marketing Team. Ibrahim Eliasu, a physically challenged farmer, was also presented with a mattress, five cutlasses, Wellington boots, a box of Key Soap, and a Certificate.
Present at the event were the Member of Parliament for Nhyiaeso, Hon. Stephen Amoah, Assembly members, Metro Director of Agriculture, some heads of department, service heads, traditional authorities, community members, and the press.
Story:Emmanuel Antwi Jnr