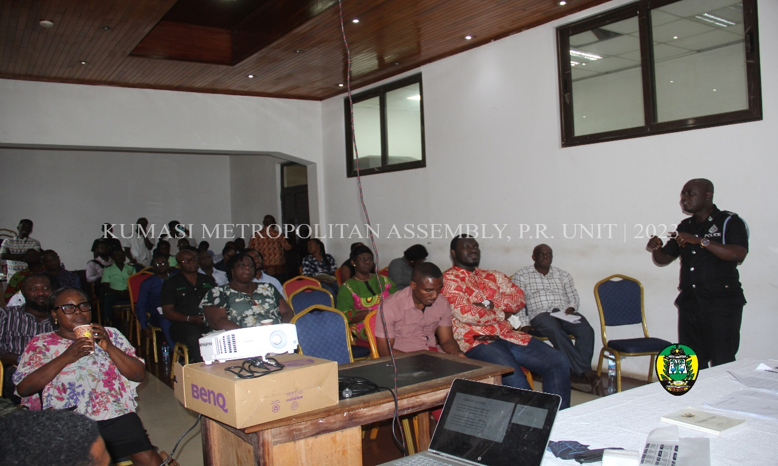 As part of the Kumasi Metropolitan Assembly's mandate to ensure overall development of the metropolis as spelt out in section 12 (3)of the Local Governance Act, Act 936 of 2016, and the need to have consistent interactions with key service providers to build synergy and ensure effective service delivery, a stakeholders meeting was organized on Tuesday 1stAugust, 2023 at the KMA Conference Hall.
The Non-Decentralised departments and agencies that attended the stakeholder meeting were the Ghana Police Service, NHIS, Forestry Commission, NCCE, ECG and GWCL. The rest were Regional Statistics, Ghana Immigration, Electoral Commission, Ghana National Fire Service, EPA, Ghana Enterprise Agency, and the National Ambulance Service.
The Non-Decentralized Departments and Agencies made presentations on their level of service provision and the way forward to ensure effective service delivery in the metropolis.
The Ghana Police Service presented trend analysis of reported crime cases from 2020 to 2022, current security situation in the metropolis and challenges with law enforcement among others.
In their presentation, the Ghana Immigration Service disclosed the trend analysis of migration in Kumasi from 2019 to 2022,characteristics of migrants, total number of migrants, effects of high migration and the way forward.
The Electricity Company of Ghana in their presentation disclosed the total electricity coverage, number of communities with and without electricity in the metropolis, the new cashless system, and their key challenges.
All the other departments and agencies also made presentations on their level of service provision in the metropolis.
Present at the stakeholder meeting were the Metro Coordinating Director, Mr. Francis Dwira Darko, some heads of department at the KMA, and representatives from all the departments and agencies.
PUBLIC RELATIONS UNIT-KMA