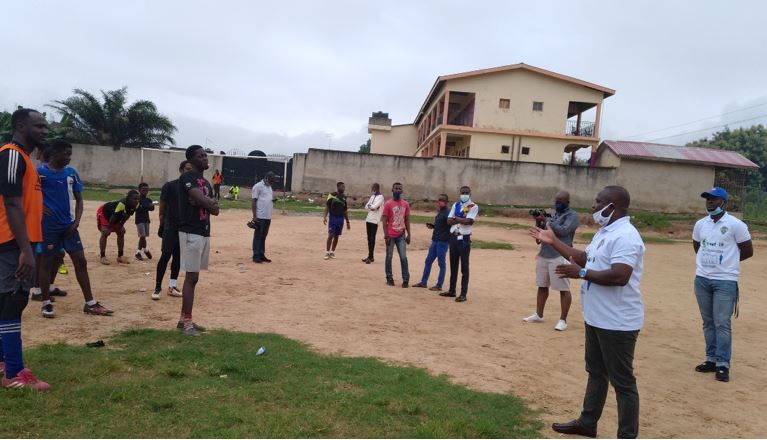 The Youth and Sports Sub-Committee of the Kumasi Metropolitan Assembly (KMA) has made a polite call to the youth in Kumasi on their continuous engagement in sports activities, specifically soccer or football during this Covid-19 pandemic era.
The Committee, which is embarking on a community sensitization programme to educate the youth on how to protect themselves against contracting the corona virus visited four community parks in three sub-metros where the youth, in spite of the ban on football, were playing in the guise of exercising.
The community parks were Borla Park at Akwatia line, Atipen hene and Konadu Yiadom parks at Ash-Town, Asem park at Asemand Dote-Duase Park at Duase.
The convener of the Youth and Sports Sub-Committee, Hon. Kwasi Kwarteng advised the youth to desist from playing football since the virus was contracted mainly through personal contact with an infected person or object.
He said football was a contact game and that there was no way one could play it without touching a teammate or opponent and if one was infected it could
Hon. Kwarteng rather suggested that the youth could run around the field and do some aerobic exercise as a way of keeping fit.
The convener entreated them to adhere to all the safety and hygiene protocols of nose wearing masks in public, washing hands with soap under running water and staying home if they had nothing important to do outside.
Some players the committee interacted with, were grateful for the education and advice, and also admitted that they were aware of the ban on football.
Story: Emmanuel Antwi Jnr.