The Kwame Nkrumah University of Science and Technology (KNUST) is set to partner the Kumasi Metropolitan Assembly (KMA) in the area of tourism, city planning to ease congestion and beautification of the Kumasi City.
This was disclosed when the Vice Chancellor of the University, Professor Mrs. Rita Akosua Dickson, led a 7-Member Management delegation on Wednesday August 19th 2020 to confer on the Kumasi Mayor, Hon. Osei Assibey Antwi at his office.
According to her, the visit was to officially introduce herself to the Kumasi Mayor asthe new Vice Chancellor of the University and also to reiterate the University's readiness to collaborate with the Kumasi Metropolitan Assembly.
She noted that one problem that was confronting the University was inadequate hostel facilities to accommodate the high student population, to this end, she appealed to the KMA to extend support to the school when there are new projects such as hostel facilities.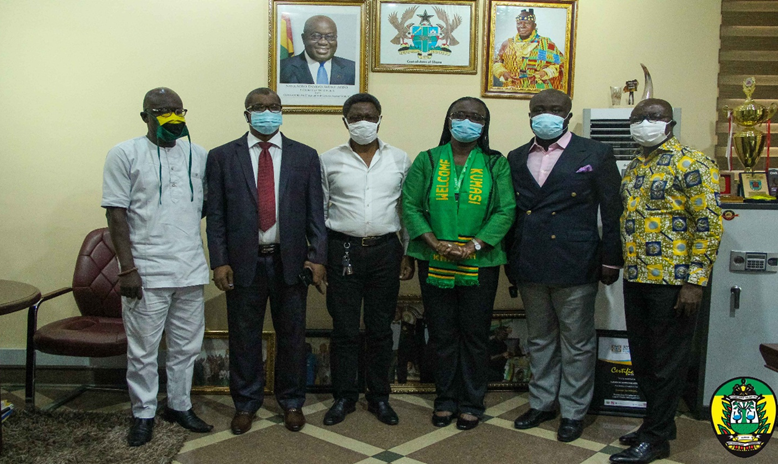 Hon. Osei Assibey Antwi,the Mayor of Kumasi on his part noted that, the vision of the Assembly was tore-develop Ghana's oldest and second-largest city to the status of a 21st century metropolis, and that, it would require the technical support of the leading Science and Technology University in Africa.
He said an earlier collaboration with KNUST had yielded huge dividends in the area of waste management, and mention that the said collaboration by way of proposal creation by KNUST had positively resulted in financial and logistic assistance to the KMA from the National Investment Bank (NIB), VIP, Zoomlion Ghana Limited and Royal Bank.
He said the 17 departments of the Assembly would collaborate with the similar departments or faculties of the University to achieve homogeneity, such as Physical Planning Unit of KMA and Faculty of Architecture and Planning of the University.
He disclosed that the KMA was going to market the School to the International Community for opportunities.
STORY:EMMANUEL ANTWI JNR