World Cancer Day, a day set aside by the World Health Organization (WHO) with the sole aim to globally fight the cancer epidemic was marked on Friday 4th FebruarythFebruary, 2022 at the forecourt of the Oncology Department of the Komfo Anokye Teaching Hospital (KATH) in Kumasi under the theme "Close the Care Gap".
In attendance were the Metropolitan Chief Executive (MCE) of Kumasi, Hon. Sam Pyne; Metro Director of Health, Dr. Gyimah Omari Sasu; Regional Director of Health Service, Representatives of the C/CAN, representatives of Security Agencies, and other invited dignitaries.
In her welcome address, the Metro Director of Health, Dr. Akosua Gyimah Omari-Sasu said the World Cancer Day was a day to share information with all and mobilize stakeholders to support Cancer prevention and management.
According to her, over one third of cancers were preventable, which she said could be achieved by reducing exposure to risk factors such as tobacco, obesity, physical inactivity, infections, alcohol, environmental pollution, occupational carcinogens and radiation.
She said the impact of cancers went far beyond physical health, impacting the mental and emotional wellbeing of patients and their caregivers.
Dr. Omari-Sasu said cities had the ability to bring together diverse groups of people around the table to tackle a disease as complex as cancer, adding that, what the City Cancer Challenge had done for Kumasi was to bring together civil society, the private sector, healthcare experts, patients and communities.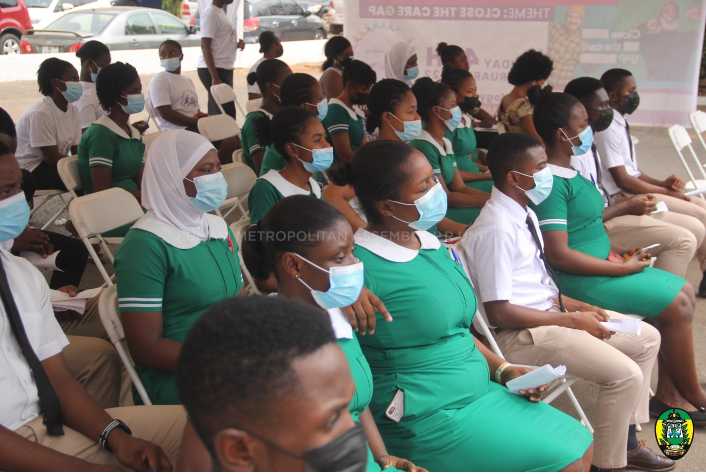 She said Kumasi had been better placed by being part of the City Cancer Challenge from 2018 as a City learning center to improve the quality of Cancer Care.
The Metro Chief Executive, Hon. Samuel Pyne in his remarks said challenges in access to Cancer Care were further compounded in times of crisis like the current Covid-19pandemic and it was for that reason the government of His Excellency the President, Nana Addo Dankwa Akufo-Addo was resolved in prioritizing health care delivery in Ghana to bring it to a world class standard.
According to him, Kumasi was the first African city and fourth in the world to be selected to join the City Cancer Challenge at the beginning of 2018, and since then, this vibrant city had successfully mobilized a multi-sectoral group of stakeholders who had contributed data as part of a comprehensive assessment of cancer care.
He encouraged the citizenry to be ambassadors and play a role in reducing stigma around cancer, improving understanding of the disease, and encouraging people to seek early screening and care.
He said the World Cancer Day aimed to prevent millions of death each year by raising awareness and education about cancer and pressing governments and individuals across the world to take action against the disease.
The Nkwantakesehene, Nana Boakye Yam II, who was the chairman for the occasion called on all to avail themselves for screening for early detection of the disease and also eschew stigmatizing people who were diagnosed with the cancer disease.
STORY AND PICTURES: EMMANUEL ANTWI JNR
PR UNIT-KMA