A delegation from the Central Command of the Ghana Armed Forces led by the outgoing General Officer Commanding (GOC), Brigadier General Joe Aphour, has paid a courtesy call on the Chief Executive Officer of the KMA, Hon. Sam Pyne at his office in Kumasi.
According to Brigadier General Joe Aphour, the call was to officially notify the Mayor and the Assembly about the end of his tenure as the GOC of the Central Command and also to officially introduce the incoming GOC, Brigadier General Charles Agyemang-Prempeh.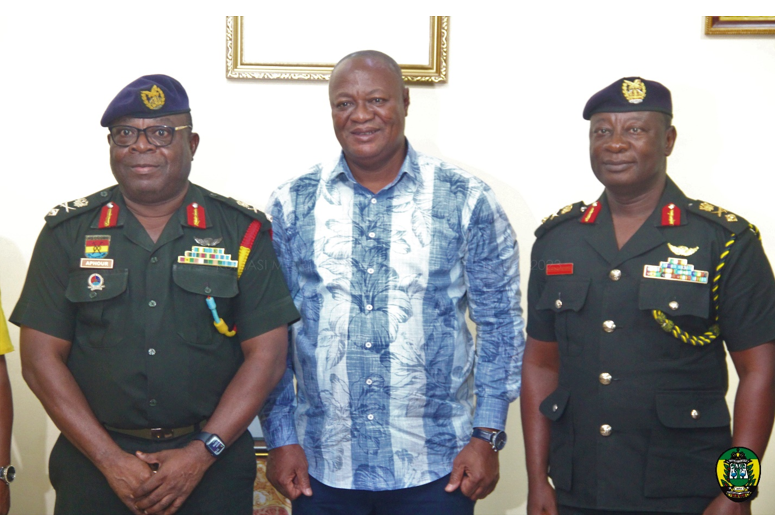 GOC Aphour expressed his gratitude to the Kumasi Mayor and the KMA for the unflinching support given him during his stay in Kumasi as the GOC of the Central Command.
The outgoing GOC subsequently advised the incoming GOC to collaborate with the KMA and always respond swiftly whenever called for assistance.
Hon. Sam Pyne lauded the outgoing GOC for his persistent efforts during his tenure at the Central Command.
He called on the new GOC, Brig.Gen. Agyemang-Prempeh, to emulate the good works of his predecessors, adding that, the City of Kumasi was engulfed with all manner of indiscipline and criminalities which needed a close collaboration with all Security Agencies including the Military to handle the menace.
Accompanying the GOCs were Col. Ansah Akrofi and Col.Frimpong Manso, Command Operations Officer and Command Logistics Officer respectively.