The Mayor, Hon. Samuel Pyne paid a working visit to some basic schools to welcome pupils to school. He was accompanied by Mr. David Oppong the Metro Education Director who also doubles as the acting Ashanti Regional Director of Education.
The visit of the Metro Chief Executive forms part of governments initiative for senior officers to touch base with pupils and also present some stationaries and sweets to school children.
The "My First Day at School" is an annual event held country wide to encourage pupils entering the main stream school system.
The mayor was happy to see the high level of discipline among the schools visited and the number of attendances in the classes visited. He said education is the heart beat of the government and would leave no stone unturn in providing quality teaching and learning for the pupils.
Hon. Pyne indicated that the works of the government in the education sector is unparallel and the evidence are so glaring for all to see.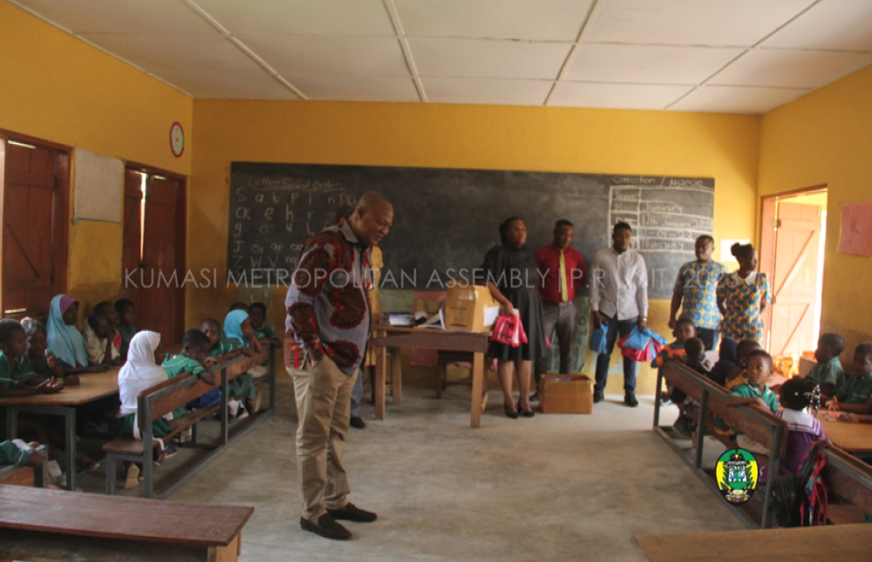 On technology, the mayor said it essences is to make our lives better, aid in teaching and learning as well as better our health system. An instance where people school online and still have certificates as in -person schooling was also cited by him as the opportunities that comes with technologies.
He admonished students to desist from abusing technology, particularly social media since whatever they put there may come back to haunt them in the future.
The Metro Director of Education, Mr. David Oppong expressed his satisfaction with the enrollment and called on parents to send their wards to school. He called on parents to desist from the habits of keeping their children at homes when schools reopen and also tasked them to ensure that their wards are properly clothed.
Mr. Oppong advised parents to take advantage of the numerous government intervention in education to better the lives of their children.
The schools visited were St. Augustine's Anglican Primary in Subin, with 30 kids in KG 1, whiles New Tafo Dichemso M/A Primary in the Manhyia South had 15 kids atthe KG 1. The Bohyen Muslim Community Basic School in Bantama had 12 kids also at the KG 1 and St. Hubert Roman Catholic Basic School located at Manhyia North had an encouraging number of 28 KG 1 kids present in school. Finally, the team visited Atasemanso Roman Catholic Primary in the Nhyiaeso with 45 KG1 kids in attendance.
In the five schools visited by the mayor a total of 130 pupil were in kindergarten one (KG1), and 135 were also in basic one (B1).S