The Mayor of Kumasi, Hon. Sam Pyne joined the Muslim Community in Kumasi to Mark this year's Eid-ul-Fitr celebration at the T.I. Ahmadiyya SHS park on Saturday 22nd April, 2023.
The Eid-ul-Fitr celebration marks the end of a month-long dawn to dusk fasting of Ramadan and it's characterized by huge attendance including women and children every year.
Hon. Sam Pyne delivering his address at the occasion, on behalf of the President of the Republic, H.E. Nana Addo Dankwa Akufo-Addo, Vice President Alhaji Mahamadu Bawumia, the Regional Minister, Nananom and the good people of Kumasi congratulated all Muslims for the smooth and successful completion of the twenty-nine days of fasting during the Holy month of Ramadan.
He said Ramadan offered a clear opportunity to refresh our beliefs in the Quranic teachings as well as provide divine guidance to discover the paradise that was lost by man because of disobedience of God's instructions.
Hon. Sam Pyne said Ghana is a blessed nation of people with diverse background, lineage and religions, living together in peace and harmony, and that all must cherish this long-standing healthy relationship that exist among us as the basis for advancing the course of our dear nation.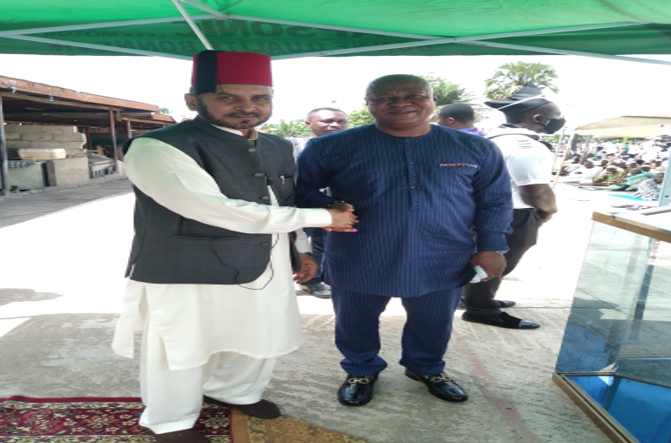 He entreated the Muslim community to place premium and emphasis on the things that binds Ghanaians rather than what divides us and eschew negative practices that have the potential to create disharmony.
The Kumasi Mayor commended all Muslims for their effort in ensuring peace during this year's Ramadan as well as their commitment to peaceful co-existence
Maulvi Abdul Hameed, the Ashanti Regional Missionary of the Ahmadiyya Muslims Mission commended members of the faith for engaging in the Ramadan fast and showing commitment to the observance of the pillar of the Islamic faith.