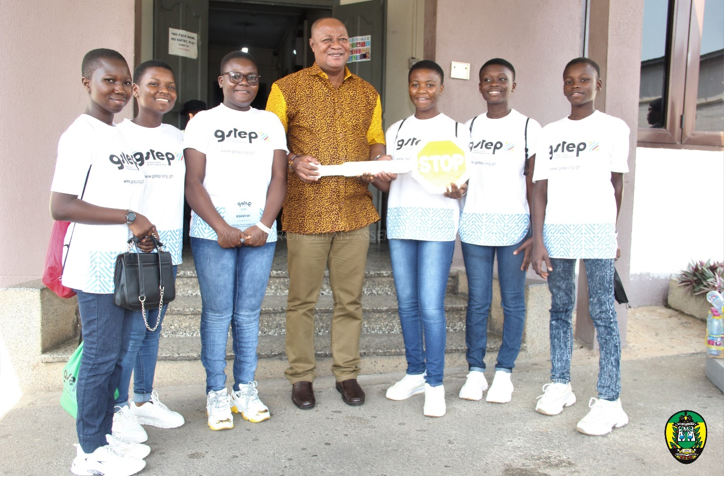 GENIUS SIX, an all-girl technology-based team from the Uaddara Basic School of the 4 Garrison Education Centre in Kumasi who emerged the overall winners of the recent National STEM Competition, Ghana Science and Tech Explorer Prize has paid a courtesy call on the Kumasi Mayor, Hon. Sam Pyne at his office.
According to Mr. David Oppong, Metro Director of Education who led the team, the visit was to officially introduce the team to the Mayor on their achievement as the overall winner of the national competition.
He said the all-female team won the competition through an innovative device they created by name Illuminated Child-Road Safety Device (IC-RSD).
According to the team, the close proximity of their school to the Komfo Anokye Teaching Hospital – Accident and Emergency Unit posed great threat to children who use the busy road in front of the school, citing cases where school children were knocked down by speeding vehicles.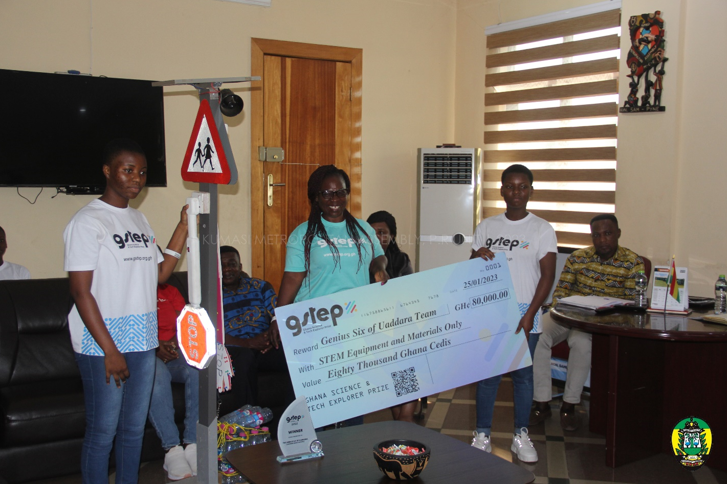 They mentioned that these and other similar incidents informed their decision to create this innovative device which will be used by school children to cross the road in the absence of road markings or street wardens.
Hon. Sam Pyne in his speech lauded the team for winning the prize and also projecting the image of the Kumasi Metropolis.
He said the prize came at a time the KMA and its developing partners, BIGRS and Vital Strategies were also embarking on a speed awareness campaign metro-wide.
The Mayor opined that he will personally inform the Assembly's development partners on Road Safety to support the initiative of the Genius Six Female Engineers.
Hon. Pyne entreated teachers to encourage parents to send their wards to STEM schools because according to him, that has been the backbone of most developed countries.
The Kumasi Mayor on behalf of the Assembly presented 100 pieces of bulbs to the 4 GARRISONEDUCATION CENTRE to illuminate their classrooms and the streets and also hinted of a nice package for the team later.
Earlier, Dr. William Kwame Amankrah Appiah, the new Ashanti Regional Director of Education conferred on the Kumasi Mayor at his office. The new Director said his visit was to officially introduce himself to the mayor and also to pledge his commitment in the continuation from where his predecessor left.
Hon. Sam Pyne entreated Dr. Appiah to tackle the recent poor examination performance of schools in the Metropolis.
STORY: PR-UNIT, KMA