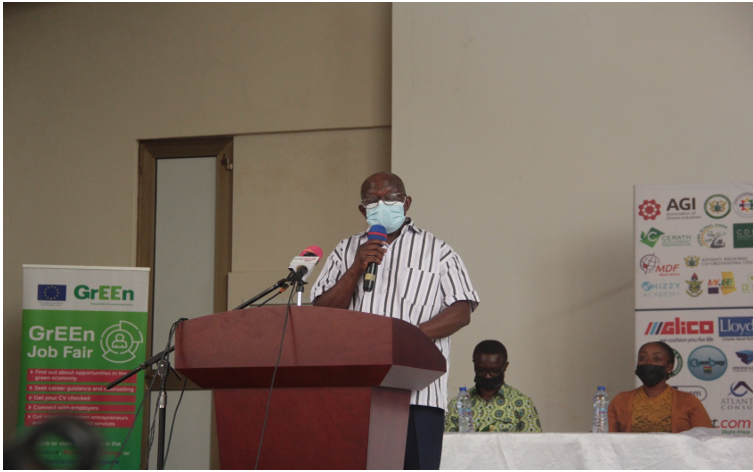 The Ashanti Regional Minister, Hon. Simon Osei Mensah, in his opening remarks echoed government's position for the youth to become entrepreneurs to create their own jobs.
He advised them not to put all their hopes in the government for employment but should rather try to think outside the box and create their own jobs and employ others.
The Metropolitan Chief Executive for the Kumasi Metropolitan Assembly, Hon. Samuel Pyne has replied critics of the New Patriotic Party (NPP)who are determined on reprimanding the NPP led government to hit the roof on the joblessness situation in Ghana.
Speaking at the maiden Youth Employment Agency's job, career and entrepreneurship fair in Kumasi at the Prempeh Assembly Hall, he answered detractors that "the Unemployment
He expatiated on the foregoing by citing how foreign nationals from countries like Cambodia, Eritrea, Afghanistan, South Africa and others apply for jobs in Ghana. Considering how the NPP led government is putting measures in place to address the unemployment situation; partnering the private sector in the case of 1D1F, he lamented bitterly over how people sometimes try to rubbish the laudable efforts of government aimed at making sure that jobs are created.
"Jobless Ghanaians are not happy when they hear Ghanaians rubbishing the efforts of government in creating jobs for the youth'.
The Chief Executive Officer of the YEA, Mr. Justin Kodua Frimpong, stated that at the core of the agency was to create temporary jobs for the teaming youth in the country, adding that, it was scaling it towards anew direction of making the jobs so created permanent.
He pronounced that GH¢10 million had been earmarked to support those whose business plans and ideas would excel to set up their own businesses.